August 8-19, 2007
Thailand National Science and Technology Fair 2007
On August 8-19, 2007, Thailand National Science and Technology Fair 2007 was held at Bangkok International Trade and Exhibition Center (BITEC). With full support of the Royal Family of Thailand, these fairs are held every summer to raise public understanding of science and technology.
Celebrating the120th anniversary of friendship between Japan and Thailand, Prof. Dr. Yongyuth Yuthavong, Minister of Science and Technology of Thailand, requested the Japanese government to send delegates to this year's fair. Pleased to respond to his request, Japanese government agencies, universities, research institutes and corporations participated in the fair, creating a Japan pavilion called "Japan-Thailand S&T Friendship Park." After the ceremony on August 10, Her Royal Highness Princess Maha Chakri Sirindhorn visited the Japan pavilion and observed the exhibits of many robots and other materials. Over the course of the fair, various events and displays were held, especially on energy/environmental sciences and technologies. According to the National Science Museum of Thailand which was one of the organizers of the fair, 1,226,726 people visited the fair.
The JSPS Bangkok Office operated a booth within the Japan pavilion to show examples of research collaboration between Japan and Thailand. The office also held a series of "JSPS Lectures," in which four Thai researchers, who had studied or experienced research training in Japan, gave lectures on their research topics to the visitors, most of whom were elementary or junior high school students, in a manner easy for them to understand. The object of these lectures was to raise awareness in science and technology, and to promote friendship within the Japan-Thailand S&T community.
Related Website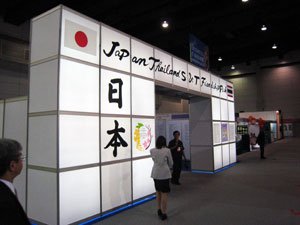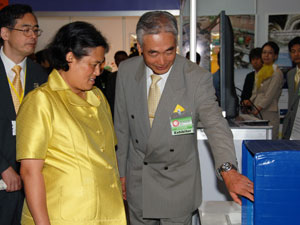 (Left)Japan-Thailand S&T Friendship Park(Japan pavilion)
(Right)H.R.H. Princess Maha Chakri Sirindhorn visited the Japan pavilion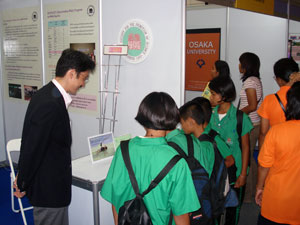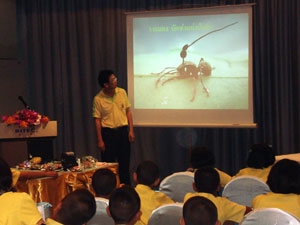 (Left)Thai students at the JSPS booth
(Right)A JSPS Lecture

PAGE TOP