| | | |
| --- | --- | --- |
| | Strategic Program for Building an Asian Science and Technology Community | |
Summary of the Program
This program aims to strengthen collaborative relationships between Japan and other Asian countries in areas of science and technology and to build an Asian S&T community. This program includes multilayered activities as described below.
Launched in FY2006, the program is operated by JSPS with funding support from the Asia S&T Strategic Cooperation Program (Strategic International Exchanges) of Special Coordination Funds for Promoting Science and Technology, Ministry of Education, Culture, Sports, Science and Technology (MEXT).
| | | |
| --- | --- | --- |
| | ASIAHORCs (Asian Heads of Research Councils) | |
ASIAHORCs means "Asian Heads Of Research Councils." ASIAHORCs will bring together representatives of major research councils in Asian countries to exchange views and strengthen networks among themselves in an effort to address issues common to Asia (e.g. disaster prevention, environmental pollution, energy supply, infectious diseases, human resource development, networking of centers of excellence).
| | | |
| --- | --- | --- |
| | HOPE Meetings | |
This project is aimed at fostering the scientists who will forge Asia's future by facilitating network building among the region's graduate students and young researchers and bringing them together in exchanges with Nobel laureates.
| | | |
| --- | --- | --- |
| | Flexible International Exchanges | |
This program flexibly implements international exchanges (e.g. holding international conferences, symposia, or workshops, and dispatching and receiving scientists) in collaboration with universities, research institutions and scientific societies in an effort to build an S&T community that strengthens regional partnership while working to resolve issues common to Asian countries or of high policy priority within them.
| | | |
| --- | --- | --- |
| | Japan-Asia Research Community Network (JARC-Net) | |
The Japan-Asia Research Community Network ("JARC-Net") is a database of researchers and experts who are interested in the research cooperation between Japan and other Asian countries/areas. By registering, you will be able to search and browse other members' profiles.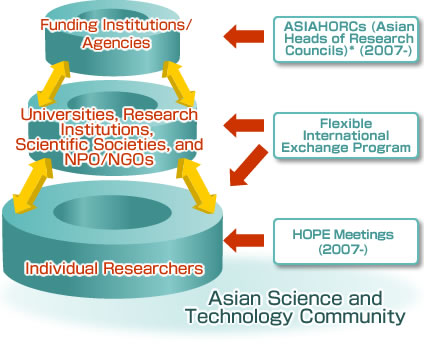 Enhancing S&T in Asia
Building Strong S&T Networks Between Asian Countries and Japan
Figure 1.
Multilayered Support Provided through the Strategic Program for
Building an Asian S&T Community

PAGE TOP
Steering Committee
This committee consists of members who have rich experience and knowledge of the related S&T fields and of Asia-Japan cooperation. It establishes the strategy and guidelines for this program.
Coordinators Meetings
This meeting consists of experts, practitioners, and administrators who have ample knowledge of Asia's current situation. It aims to establish clearly-delineated plans based on policy needs amidst fluctuating international circumstances and Asia's situation.
Cooperation with Outside Organizations
JSPS gathers information and identifies problems using its JSPS Overseas Offices (Bangkok and Beijing) and also through cooperation with the "Support and Coordination Project for University Cooperation in International Development (SCP)" , outside organizations supporting international exchanges, universities and research institutes conducting them.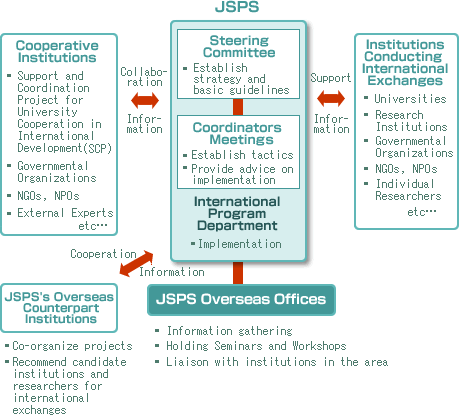 Figure 2
Implementation Structure for the Strategic Program for
Building an Asian S&T Community

PAGE TOP